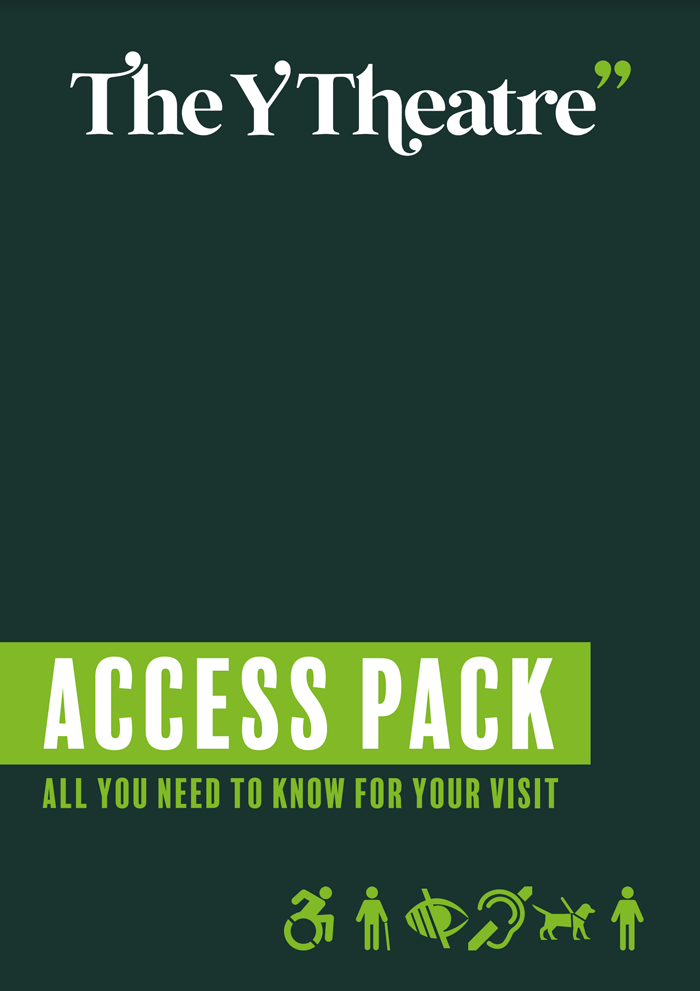 Access Scheme
At The Y Theatre we believe the arts is for everyone, and you should have the same great experience regardless of your access needs.  Being Leicester's oldest theatre, we know that in some cases we aren't the easiest venue to visit, and while we are actively working to improve that, we have put a few things in place to make your visit better.  We have created an Access Scheme, aiming to remove some of the extra work that disabled people have to do to be able to confidently attend an event, by enabling you to tell us your access needs once rather than for every visit, book our most accessible seats online, and claim your free companion ticket when booking online too.  We have also produced an Access Pack in a variety of formats so you can have as much information as possible ahead of your visit.
For more information and our full access information, please click the links below.
Our Spaces
The Theatre has step-free access from the street through to the bar and the stalls. The theatre balcony is only accessed by stairs but we hold pairs of seats in the stalls until the day of the show or until a show sells out so that those unable to access the balcony can still attend.  The main entrance has double automatic doors and the stalls and balcony have manual double doors held open before the show, at the interval, and at the end, or throughout for music gigs.  There is a member of staff positioned by the doors at all times who can assist you.
The Percy Barratt meeting room has has step-free access via a lift but there is a steep ramp up towards the lift that some customers may find difficult.  The Sports Hall has step-free access via a staff-escorted lift and again there is a steep ramp up towards the lift that some customer may find difficult. Routes to both spaces involve passing through standard-width door frames and as such may not be suitable for customers with larger mobility devices.
Parking
East Street NCP
This is the closest car park to the theatre. It is a multi-storey car park that is approximately 40m from the main entrance. The post code is LE1 6NB. The lift stops at levels 2, 4 and 6 and has a section of the drive ramp marked as pedestrian space to get to the odd-numbered levels. There is only 1 marked disabled bay that is on level 2. There is a heavy door on entry and exit.
Dover Street Car Park
Situated behind the theatre, approximately 200m to our main entrance, Dover Street is a surface-level car park. It has 14 disabled bays and is free for blue badge holders. The post code is LE1 6PW.

On Street Parking
There is pay and display on street parking around the local area with South Albion Street and Dunkirk Street being the closest. East Street also has a section of single-yellow-line. On street parking is free after 6pm.
Drop off point
There is a loading bay outside the main theatre entrance that can be used for pick-up and drop off.
East Street is on an incline that some people may find difficult.  The incline is upwards away from Granby Street and the train station, towards the NCP car park and South Albion Street.
Hearing System
The theatre, meeting room, bar and the reception area is equipped with a hearing loop system.
Companion
If you need assistance accessing an event, you can claim a free companion ticket.  These are bookable through Box Office or join our Access Scheme to be able to book them online.
Toilets
The standard public toilets are downstairs (15 steps) and are currently split into men's on the right and women's on the left. Many shows categorise these as "toilets with urinals" and "toilets with cubicles". The women's contains 3 cubicles, and the men's contains 1 cubicle and 3 urinals. Slightly further down the stairs there are also some changing rooms. The women's contains a further 2 cubicles and the men's contains 1.
The accessible toilet is on the same level as the bar and theatre stalls. It uses a regular handle-tilt lock rather than a radar key as the door slides open to a width of 77cm. The space inside is 138cm x 177cm and it contains a toilet, sink, grab rails, alarm, paper towel dispenser, bin, sanitary bin and fold-down baby changing table.
We are aware our accessible toilet is not suitable for all customers' access needs and are currently working on plans to improve all of our toilet facilities.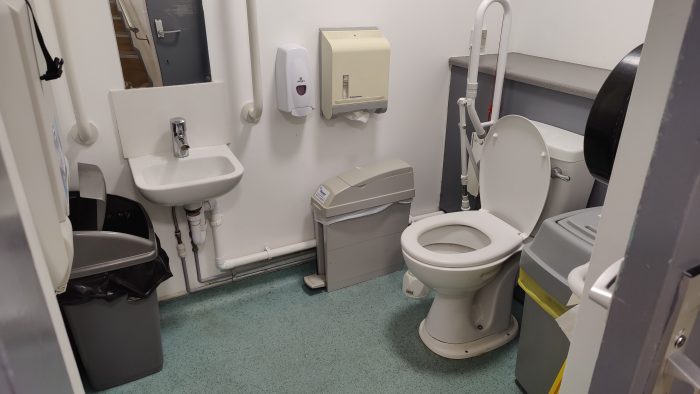 Stalls
In our stalls we use a flexible seating system so we can add or remove chairs as approprite. The spec for these chairs is below. If you use a wheelchair or have specific seating requirements please let us know and we can advise of the best places for us to remove seats to accomodate anything you bring with you.
Balcony
Our balcony has built in seats with armrests, the spec for these is below. There is currently no step-free access to the balcony level. Row D provides a walkway to the far side of the balcony and as such is the best for legroom.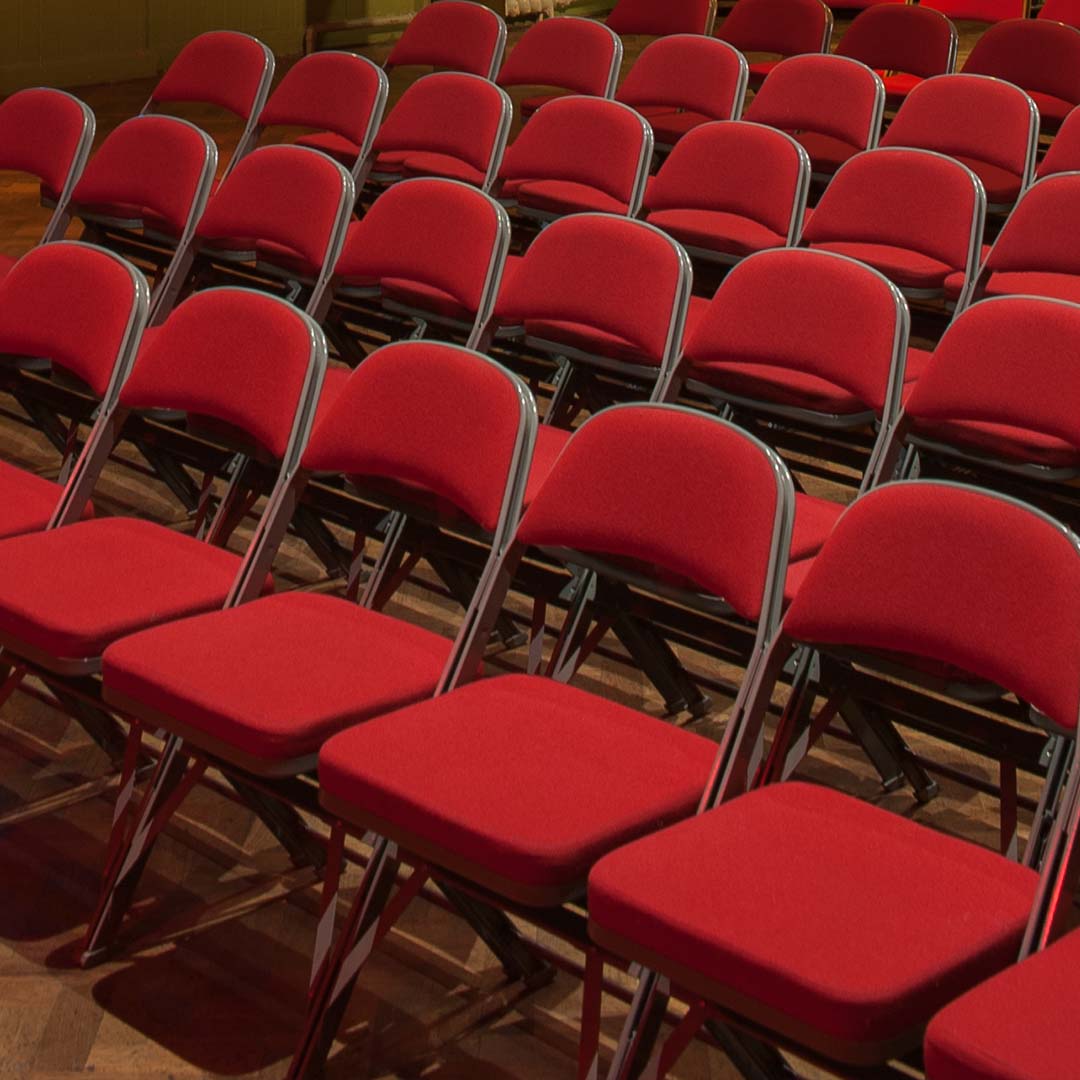 Stalls Chairs
Folding chair, stays in position when tipped. Double rolled steel frame with tip up seat. 'B' shape back. Upholstered seat and back.
Chairs link together at the frame edge. Unfortunately we do not know the load limit for these chairs.
Width: 46cm
Depth: 55cm
Seat height: 48cm
Balcony Chairs
Folding chair, tips back to upright position when vacated. Wooden frame with curved back. Upholstered seat and back. Chairs fixed in place with armrests.
Unfortunately we do not know the load limit for these chairs.
Width: 41cm
Width between armrests: 42cm
Depth: 40cm
Seat height: 36cm at the back to 43cm at the front